Chapter 11-2: Road Trip to Glacier
Jun 06, 2021
By day four we had arrived at Craters of the Moon National Monument, site of the youngest volcanic flows in the lower 48 states. The heat wave had followed us from Socorro and there was little shade as we drove around the blackened landscape of lava flows, cinder and spatter cones. We stopped at a couple of overlooks and took a short loop across the broken lava with our umbrellas to shield us from the noonday sun.
Craters of the Moon National Monument and Preserve, Idaho
The geologist in me was enjoying the landscape and the history of the volcanic eruptions: a vast ocean of lava the size of Rhode Island. I had wanted to visit this out-of-the-way site ever since I had read about it, but Bob was quiet and clearly disinterested in the entire place. Perhaps if there had been a shady nook to deposit him under, we could have stayed longer. He tried to hide his pain from me so as not to spoil my fun, but when pain overwhelmed him it was difficult to keep up the pretense that everything was fine. So I decided to cut the visit short and move on and with a sinking heart we drove northwards to the small town of Salmon, Idaho for the night.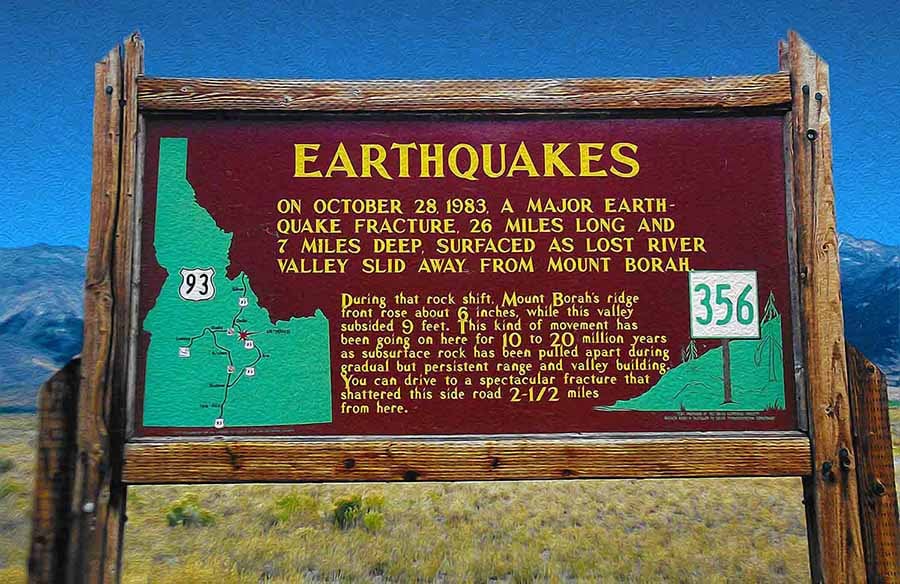 Lost River Range, Idaho
Along the way I pulled over beside the Lost River Range at a historic maker to read about the earthquake that elevated the mountain ridge front about six inches. Bob stayed in the car looking gloomy. My joy in the spectacular scenery of the Lost River Range rising steeply to east was dampened by the man I loved sitting suffering silently with his pain.