Chapter 2-4: Trust
Jan 27, 2021
As Piero Ferruci says in the Power of Kindness
"Trust along with warmth, is perhaps the quality whose origins go back furthest in our evolutionary history… It is mammalian – especially a human-characteristic. Our survival is linked to trust"…which is also linked to our childhood, "we entrust ourselves to the prolonged care and protection of our parents" I trusted in my parents; they created a safety net around me from which I could sail forth and see the world, believing in the kindness of strangers.
Yellowstone was a delight! Nothing had quite prepared me for the dazzling array of sights that I saw over the next few days. I had been expecting colorful geysers, hot springs and bubbling mud pots and bison but not the gaping chasm that gives the Yellowstone river its name. Driving along the main park road there was no sense of this colorful canyon just a stones' throw away or of giant cascading waterfalls thundering over more resistant volcanic ledges. The river was aptly named for the bright sulfur yellow canyon walls streaked with oranges and cinnamon browns created by thermal waters percolating through the volcanic rhyolite rock. There were plenty of trails to the brink of the rim where I could peer into the canyon. I stood right next to the edge of the Lower Falls as water thundered over the 380-foot drop, and spray misted over the excited onlookers.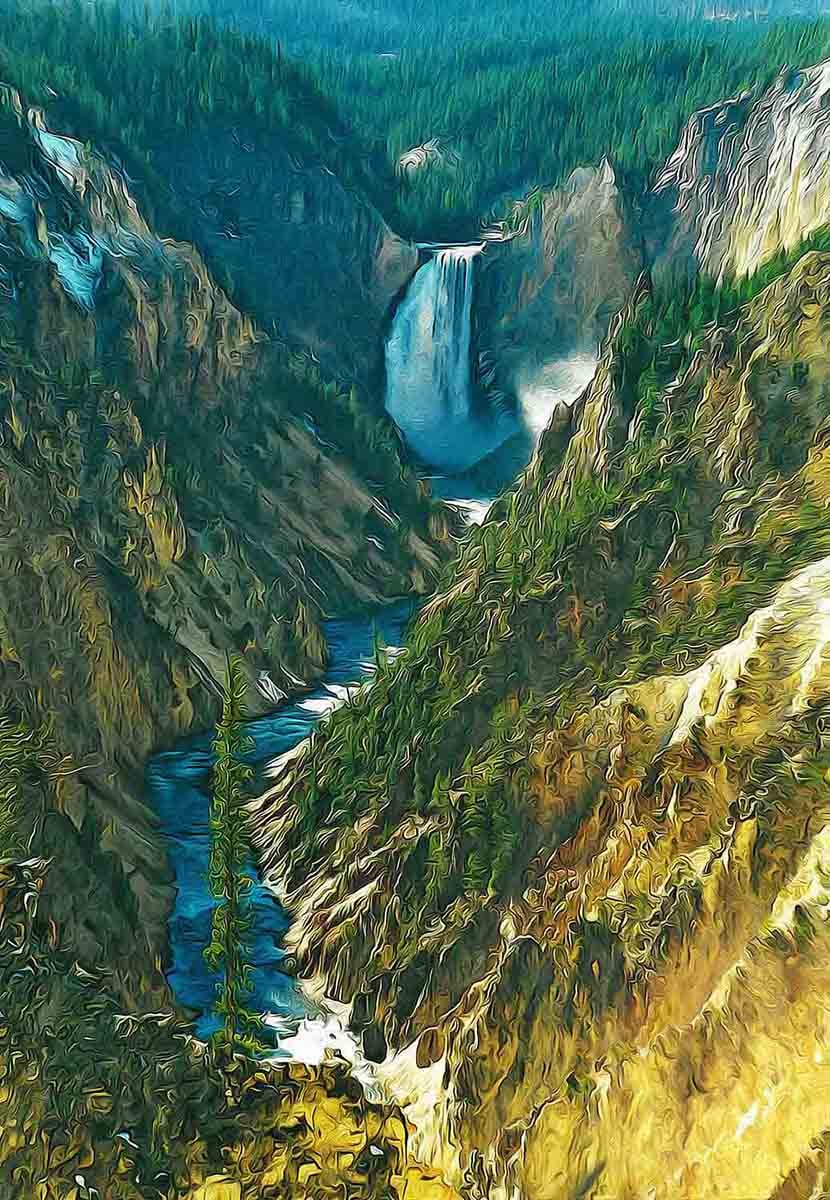 Lower Falls, Yellowstone Canyon
Early one morning as the sun was rising, I headed south from Lewis Lake campground into Grand Teton National Park. I must have seen pictures of the Grand Tetons, but nothing prepared me for the breathtaking view that appeared suddenly through the pine trees as I descended into Jackson Hole valley. I almost drove off the road I was so awed by the sight of Mount Moran and the Grand Tetons rising almost 7000 feet above the valley floor. This was truly a wonderful gift. I parked in Lupine Meadows and hiked up through knee deep grasses and silvery blue lupines on a well-made path that ascended quickly and steeply above the valley floor to Amphitheater Lake and settled down to eat my lunch overlooking the valley below with Grand Teton towering above me.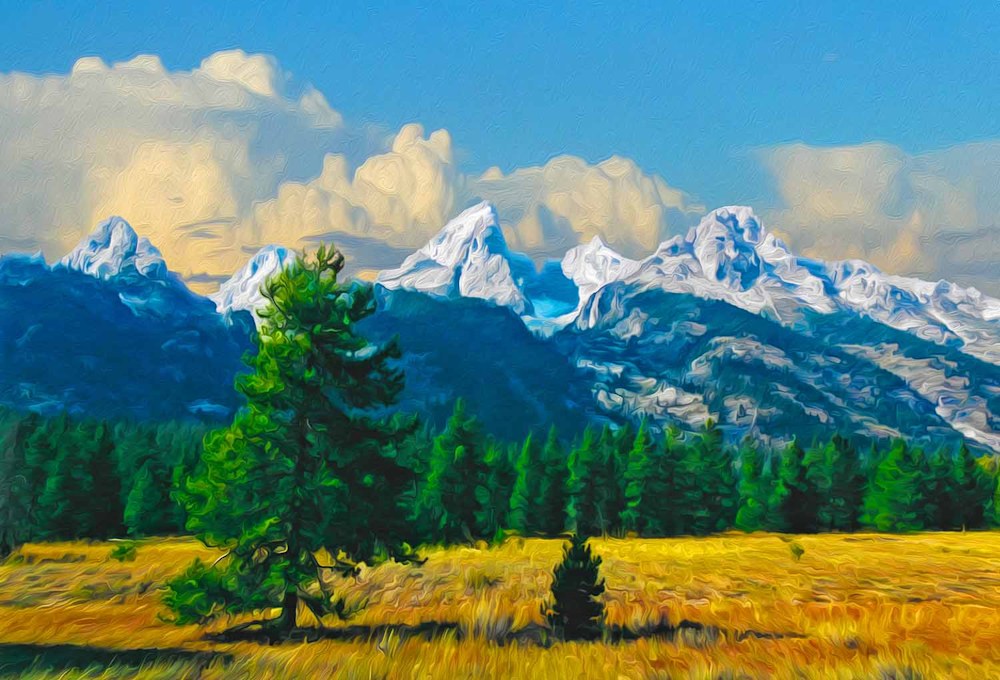 The Grand Tetons
The next morning I discovered one flat tire with the side rim a tangle of metal. I had no idea where I got the flat. I could have got it parked in the Lupine Meadows. You would have thought I would have noticed a flat tire, but I guess I was having too much of a good time to be aware that the Chevy was hobbling along on only three good tires! Given all the other rattling and clanking sounds the car made it wasn't too surprising. Undeterred and with no backup tire I began my long journey home to Saskatoon via Glacier National Park.