My lovely niece Rebecca had flown into San Francisco, and we were going to take a four-day road trip back to Socorro, with a side trip to the Grand Canyon. The Tuesday before we were due to leave my right hip went into a spasm and I ended up in the ER in agony. How was I going to drive back to Socorro with my niece? A Londoner who did not drive. I called Susie, a dear friend in Socorro on Friday morning. She arrived Saturday afternoon and on Sunday we all set off for Socorro. After 8 weeks cultivating compassion, Susie demonstrated beautifully what compassion looks like up close and personal.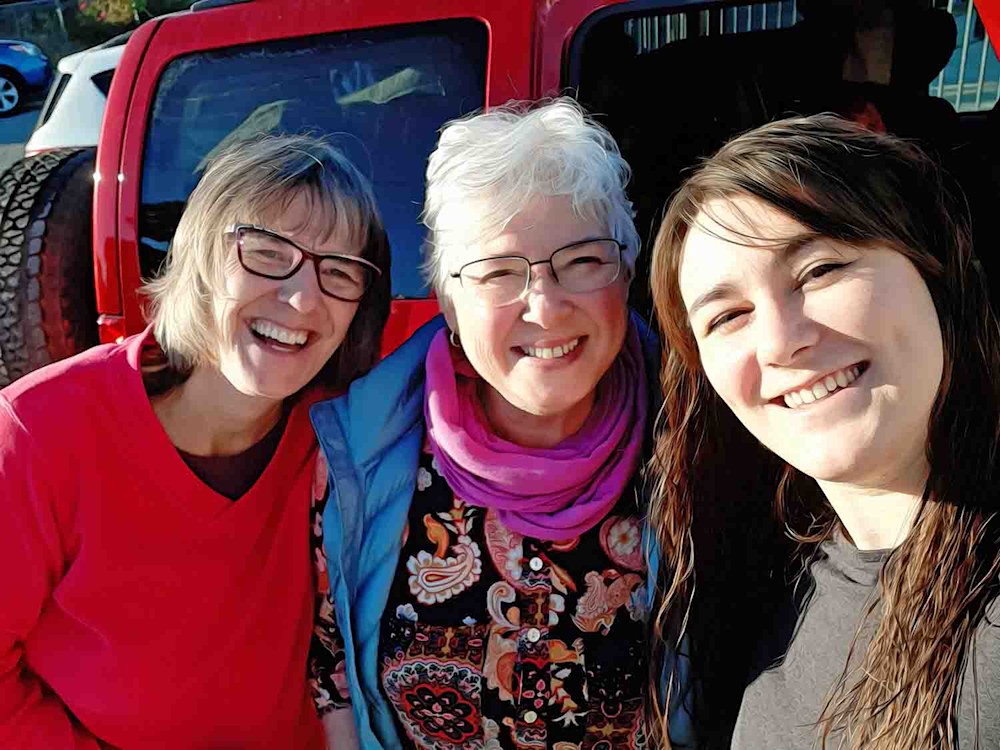 Maureen, Susie, Rebecca, East Palo Alto, California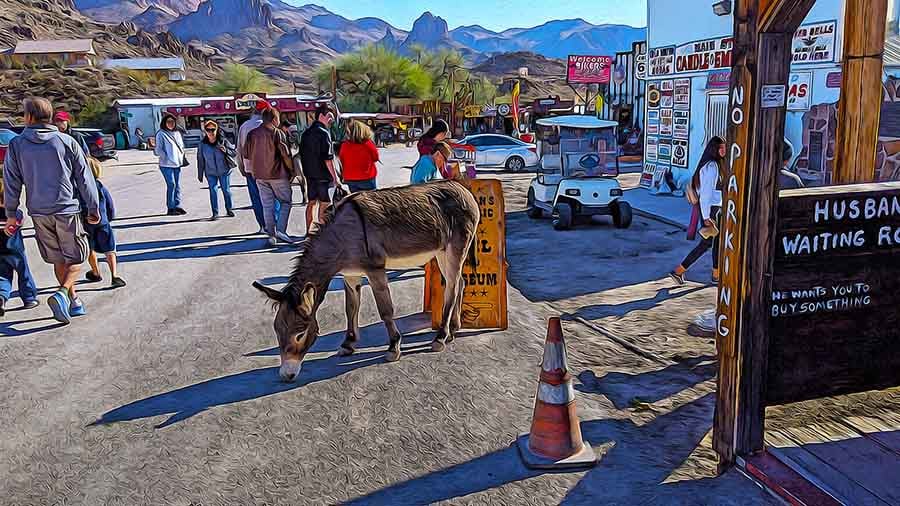 Burro, Oatman, Arizona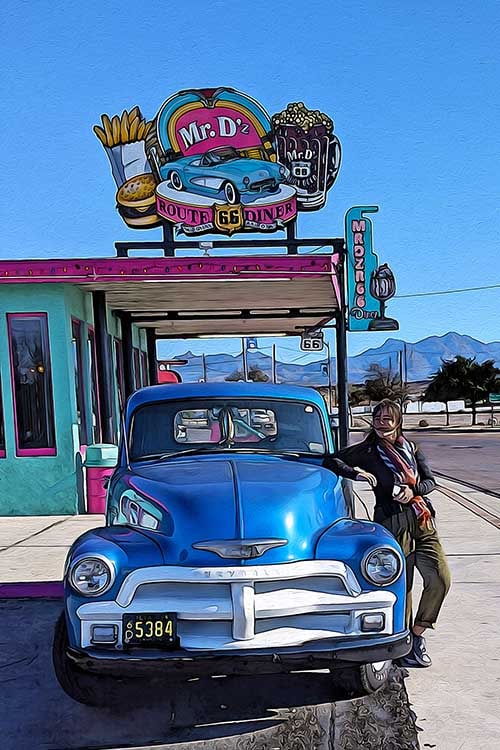 Rebecca outside Mr. D'Z Diner
It had turned out to be a wonderful road trip, with stops in Oatman to feed the wild burros, Mr. D'z Diner in Kingman for Rebecca to savor a hotdog smothered with mac and cheese with a side of sweet potato fries. At Flagstaff it began to snow and our trip to the Grand Canyon was enhanced by a light dusting of snow on the ground and the San Francisco Peaks. We arrived home late Wednesday afternoon. On Thanksgiving we awoke to six inches of snow on the ground and decided to stay home, the turkey dinner could wait until Friday. Rebecca and I relaxed as we gazed out on a winter wonderland. In less than two months I would begin an 11-month class at the Applied Compassion Academy, to figure out ways to bring compassion into my community or simply deepen compassion in my own life.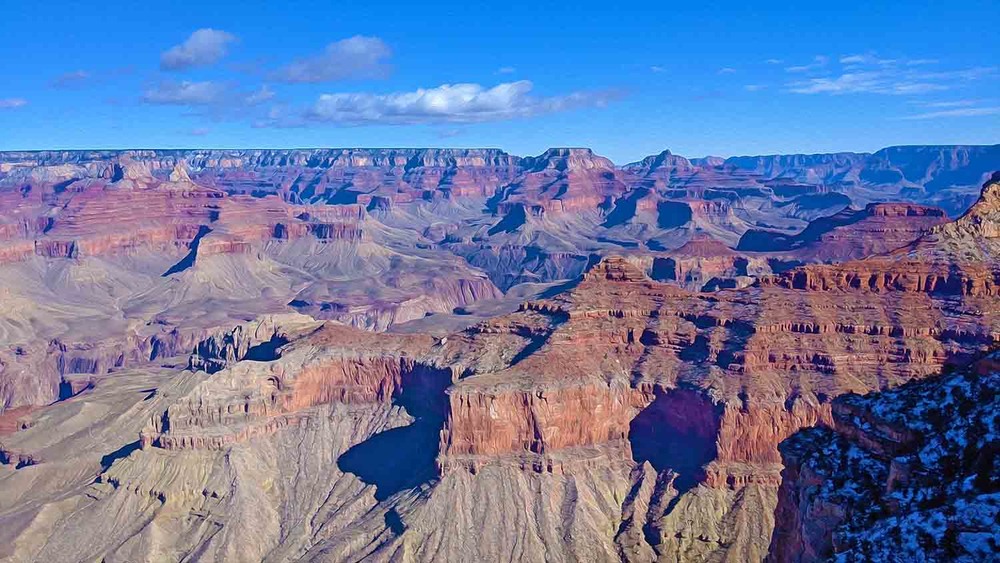 The Grand Canyon
It seems only right as I come to the end of this story quarantined in my home that I shared for twenty-four years with Bob to thank all the doctors and nurses who showed kindness and compassion to Bob and myself through the years. And to forgive those who caused us pain, acknowledging that they too were doing their best under difficult circumstances. It's not easy being human!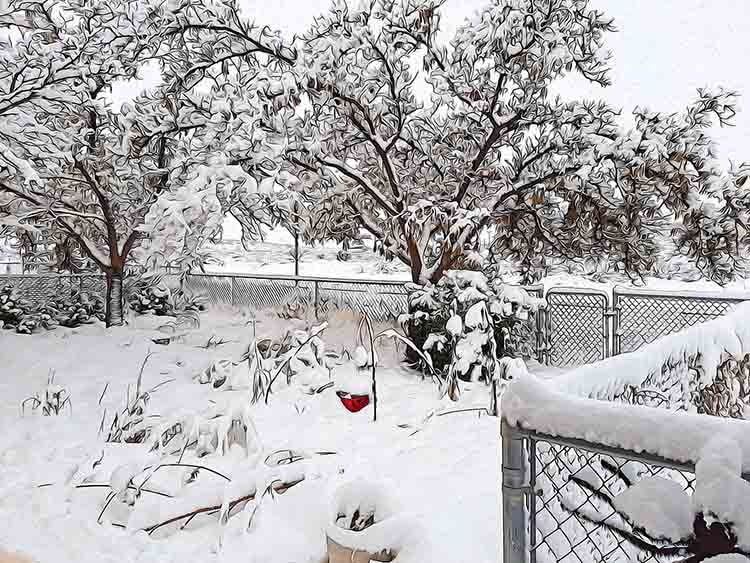 Thanksgiving Day, 2019
As, for me it's time to climb back into my trusty Xterra. It's time for another road trip. It's been twenty years since I was in Glacier and Yellowstone National Parks. The mountains are tugging at my heart. It's time to set off into the unknown with only the wide-open road for company.
Badlands National Park, July 2021

Grand Teton National Park, July 2021