Chapter 4-2: First Winter Road Trip
Feb 24, 2021
After scrambling up the dunes we made our way to Creede and camped at Slumgullion Pass at 11,530 feet. We had to clear eighteen inches of snow from the picnic table. Under the cold night sky we cooked up burgers with bacon, grilled onion and avocados and hot coffee on one small stove. It was delicious.
The next morning light snowflakes were tumbling softly out of the sky as I went cross country skiing down a trail leaving Bob to pack up the tent and all our gear, which he was happy to do. We then made our way to Telluride across a winter wonderland pausing along the shores of Blue Mesa Reservoir overlooking the rugged cliffs of the West Elk Mountains, remnants of explosive volcanic activity thirty million years ago.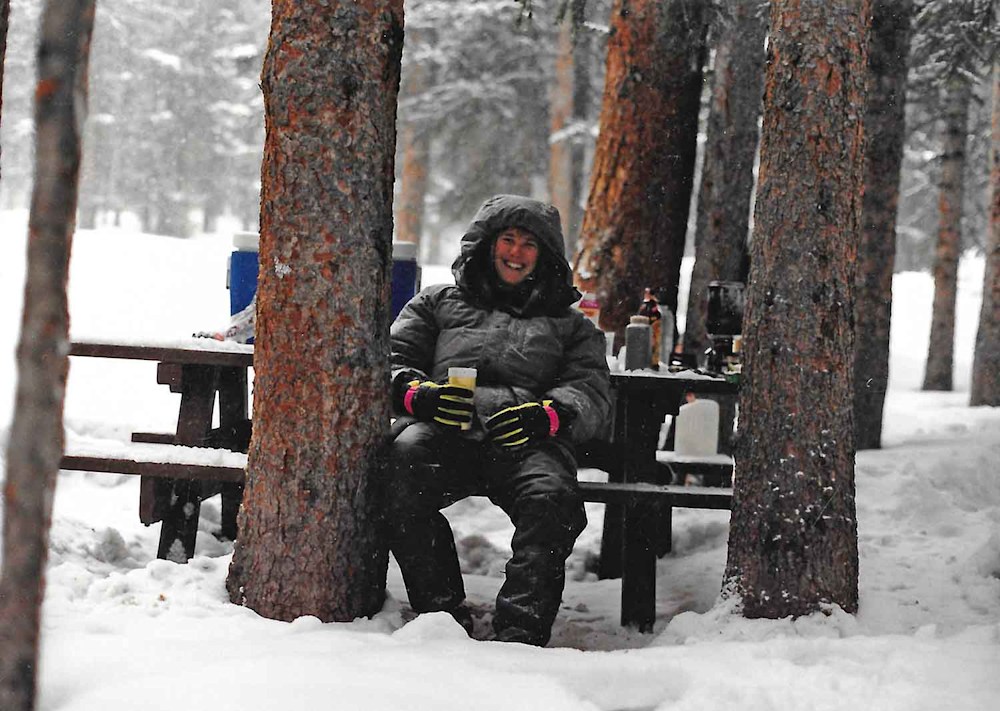 Slumgullion Pass
Driving south from Montrose the jagged peaks of the San Juan Mountains formed an impressive ridgeline against the sky. By late afternoon we reached Telluride and at the airport asked one of the workers where one could camp. He gave me a strange look and said, "It gets cold here at night". Telluride is at 8,750 feet. I pointed out we had just spent the previous night at 11,000 feet. He said, "Try Ilium," where we found a lovely spot in the valley bottom of the South Fork of the San Miguel River.
Blue Mesa Reservoir
After five nights camping, we treated ourselves to the luxury of Box Canyon Lodge in Ouray. Compared to Telluride, Ouray was quieter, more run down but in many ways even more dramatically situated among towering peaks with Mount Abrams to the south and the aptly named Amphitheater on the east side. Ouray was a delight with signs everywhere proclaiming, "The Switzerland of America".

Ouray, San Juan Mountains, Colorado
The drive home was spectacular as we quickly ascended south out of Ouray along the Million Dollar Highway towards Durango, crossing three mountain passes. The road was cut from the side of the mountains in the late 1880's after gold and silver were discovered in the rugged mountains. This is not a drive for the faint hearted with hairpin curves, drop-offs, and little in the way of standard safety measures like guardrails and shoulders. Swerving off the road is not advised!