Chapter 7-4: Canal Trip Part I
Apr 11, 2021
George as captain had decided on an ambitious round-trip journey, which left little time to enjoy nearby sites, and did earn him the title of Captain Bligh behind his back. The rest of the crew was made up of Bob's father George, his two aunts, Sally and Betty, Uncle Jimmy and his wife Joan. They ranged in age from Uncle Jimmy at 94 to Aunt Joan at 65. Bob and I were the deck crew, opening and closing the locks and standing up front with poles steering the unwieldy 70-foot long boat whenever the winds picked up.
Captain Bligh never did grasp the fact that a houseboat vacation is supposed to be a leisurely one, since the boat's fastest speed is four miles per hour. At the locks he would get impatient to the point of trying to force the gates open before the water had equalized on either side of the lock. In the mornings as soon as Bob or I set foot on deck we were being ordered to untie the boat and get going, even if everyone else was still asleep in bed and we had not eaten breakfast. He reminded us we were on a tight schedule.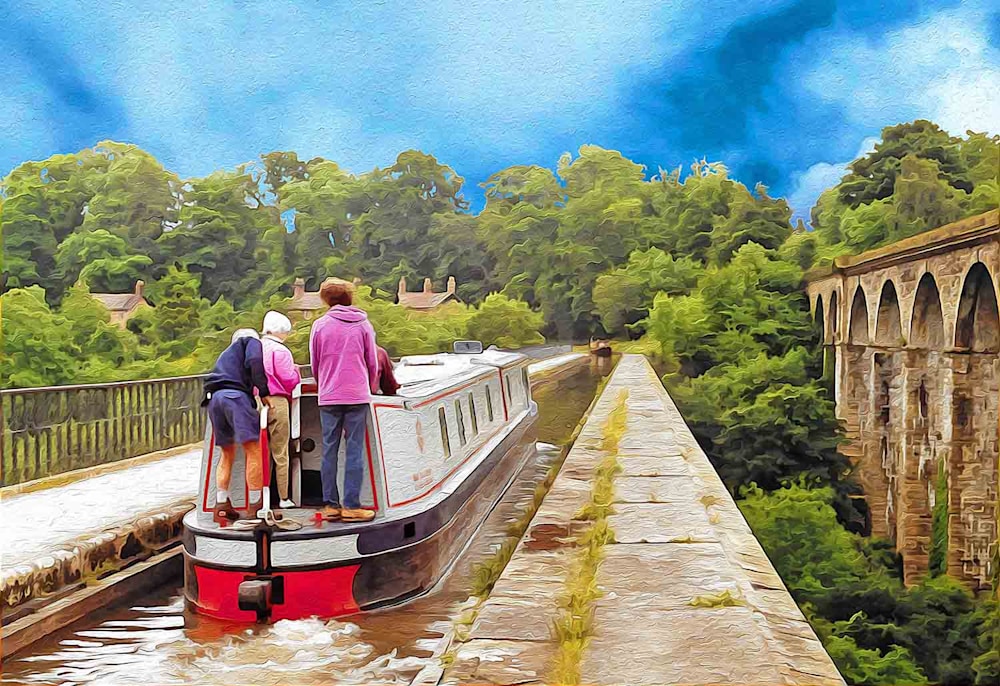 Chirk Aqueduct
So we raced, if that is possible in a houseboat towards the town of Llangollen in north Wales. The highlight was crossing the Chirk aqueduct which carries the canal 70 feet above the beautiful Ceirog Valley into Wales. Beside the aqueduct and slightly higher ran the railway bridge and a train roared by as we putted across with no time to stop and enjoy the spectacular aqueduct.
The aqueduct was built by William Jessop and Thomas Telford between 1796 and 1801 with 10 circular masonry arches. A little further on we navigated through the Chirk tunnel, 1,380 feet long, known locally as 'Darkie', one of the many tunnels we were to come across on our trip. It was designed for a single narrow boat but was straight enough to see if another boat was heading towards us.