Chapter 22-4: NM House Memorial 98
Nov 28, 2021
In 2014 Bob and I had realized that if we're going to create guidelines for chronic pain patients it would make sense to know how many pain patients there were in New Mexico. At the end of 2014 Bob and I had been working with our State Representative, Don Tripp to pass House Memorial 98 "Requesting the Department of Health to collaborate with the University of New Mexico Health Sciences Center Pain Center to design a survey of chronic pain patients to ascertain their needs in an effort to reduce overdose deaths from prescription drugs".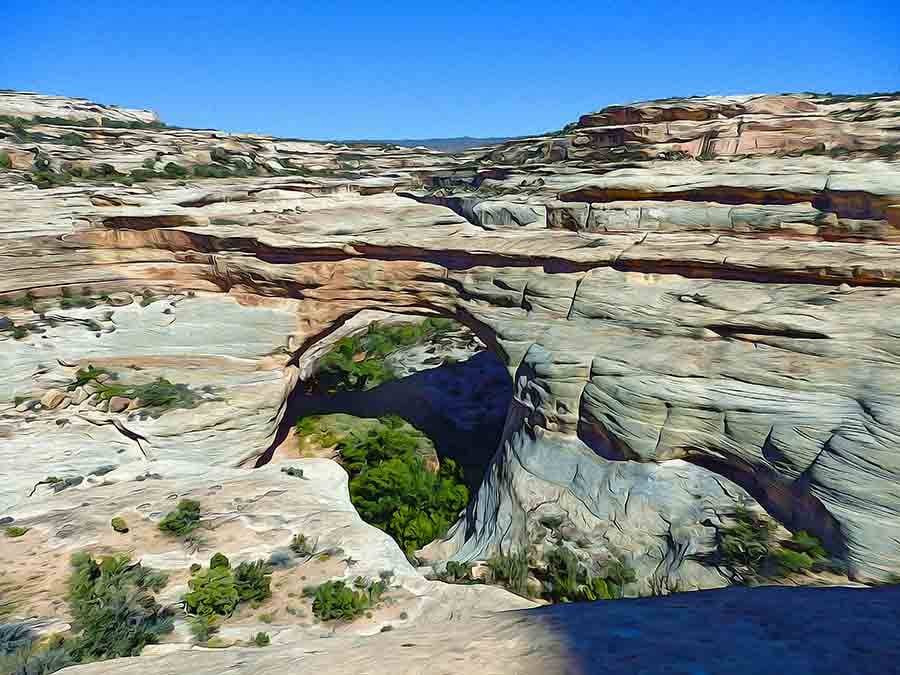 Natural Bridges National Monument
We were fortunate in having Don Tripp, the House Whip, steer this Memorial through the House. Representative Deborah Armstrong introduced the Memorial to the legislature in January 2015. In early February Bob and I attended the Health Committee meeting to speak up on its behalf. It was a long and draining day for Bob but we both believed that we needed some idea of the number of patients in New Mexico who lived with chronic pain and were not getting adequate treatment.
When the Memorial was passed, I felt that perhaps attending the Advisory Board meetings had been worthwhile. I was accomplishing something, even if I was not easing Bob's pain, maybe down the road someone else might benefit. I also appreciated the support of Dr. Mike Landon , the State Epidemiologist, who chaired the Advisory Council and had recommended to me to pursue the avenue of a Memorial in order to get the state to assess just how many chronic pain patients lived in New Mexico. Another recommendation that Bob and I had proposed, which was approved by the Advisory Council at the beginning of 2015 was that the Office of Medical Investigator should provide more detail in their drug overdose data as to whether the deceased had mental health issues leading to suicide or chronic pain issues leading to suicide or were drug addicts overdosing.
As I write this today, I realize that many if not all drug addicts are struggling with mental health issues. However, if chronic pain patients are dying because their pain is undertreated this needs to be addressed. I'm not sure if Bob would have gone on living had his pain medication been reduced any further as a result of the 2016 CDC guidelines.