Chapter 22-3: Follow the Money
Nov 24, 2021
Chronic pain is a major cost in terms of health care and lost productivity. On October 31, 2000, the 106th U.S. Congress passed H.R. 3244 and President Clinton signed this bill into law. Title VI, Sec. 1603, which provided for the "Decade of Pain Control and Research," to begin January 1, 2001. The bill ushered in a growing awareness of the high prevalence and impact of pain, which led to improved efforts in its management. Pain is now routinely assessed as the fifth vital sign. Opioid medications were once withheld from suffering cancer patients because of the fear of addiction, exaggerated concern about side effects, or, in some cases, doubt about the morality of the treatment. Less than 50 years ago, some medical textbooks even discussed the need for patients to experience pain and suffering at the end of life so that they would relate to the agony of Christ and prepare for redemption.1 Opioid analgesia is one of the most prolife therapies that we have to offer patients with cancer pain, and there is no reason to think that patients with other diseases are any less deserving of relief or that their pain is any less amenable to treatment.1
The principal stumbling block in treating chronic pain patients is not how do we treat the patient in chronic pain but how do we prevent the misuse, abuse and diversion of the drug leading to unintended overdose deaths.
Earlier in 2016, I was talking to a leading pain doctor who - off the record - told me that the people pushing hardest for restrictions in opioid prescribing were being funded by the health insurance industry. As soon as I heard this a light went off in my head "Bingo!" Suddenly the past five years all made sense. If you really want to understand a large complex issue, it's a good idea to know who all the players are and where the largest amount of money is being spent and who stands to gain the most when opioid prescriptions track down.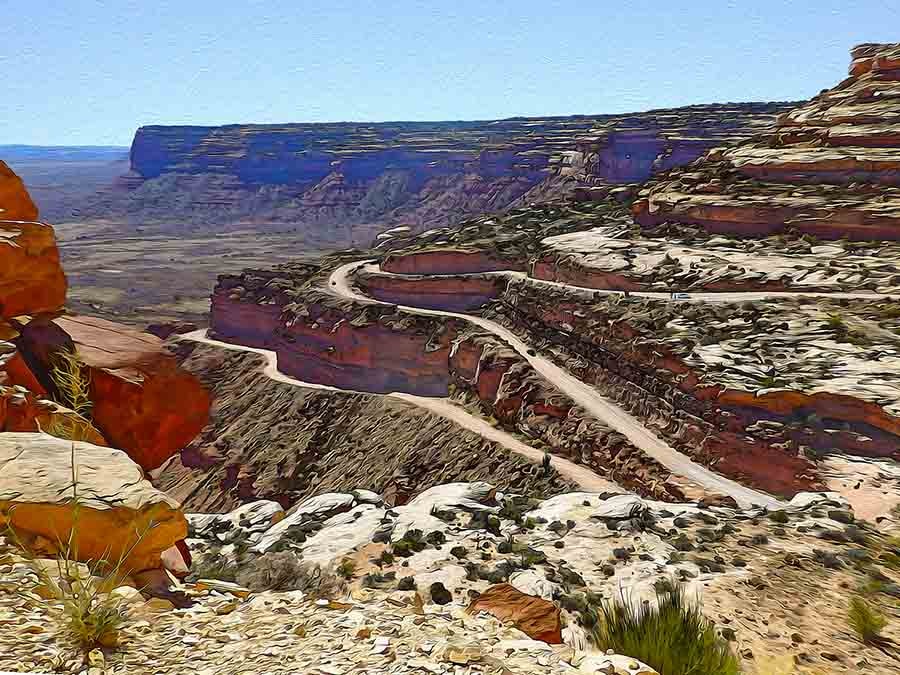 Moki Dugway
Hidden just out of sight in all this is the health insurance industry, which has watched over the years as its profits have been undercut by the increase in prescribing opiates. Many pain clinics like Lovelace are tied to the insurance arm of their business, which sets the daily limits of medication that they will cover. As more hospitals align with health insurance companies, more and more of the medical decisions that doctors can make when working for these organizations will be set by the insurance company.
1.Brookoff, Daniel, Arachnoiditis Sufferers Action & Monitoring Society (Wanganui, N.Z.) Chronic Pain: The case for opioids, Volume 2, 1-23