Chapter 22-1: Road Trip to Monument Valley
Nov 17, 2021
In Saskatoon, I had thought I would be able to drive down there for a long weekend. I mean North America fits on a page in my High School atlas. Britain took up pages. One never pays attention to the tiny scale bar at the bottom of the page. When I visited Yellowstone for the first time in 1985, Monument Valley lay another 700 miles away to the south.
So on a warm and sunny morning I set off from Gallup and drove towards Canyon de Chelly, taking the road less travelled across a twenty-mile mud bog from the rains of the previous days.
My first stop was at Spider Rock overlook where the vertical valley wall dropped an impressive 1,000-feet to the sandy floor below and a two-fingered slender sandstone prong, Spider Rock stands tall at over 800 feet. According to Navajo legend, Spider Woman lives at Spider Rock. Spider woman was said to first weave the universe and taught the Navajo (Dine) to spread the "Beauty Way" and create beauty in their own lives, teaching of balance within the body, mind and soul.
At the White House Ruins overlook I strolled the 2.5-mile round trail down into the canyon bottom to gaze up at the ruins so named for the white plaster in the upper walls of the ruins made up of over 60 rooms and 4 kivas. As many as 12 ancestral pueblo families may have lived here between 1060 to 1275 AD. The trail was a delight cut into sloping cross-bedded sandstones, the remnants of ancient dunes from a desert that covered this region of the world millions of years ago when dinosaurs roamed the world.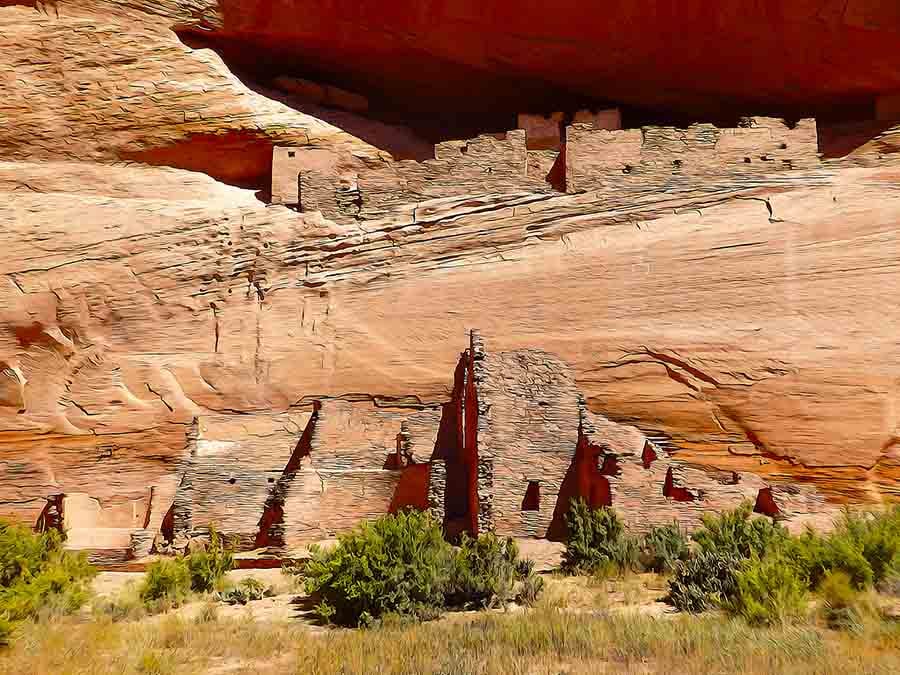 White House Ruins, Canyon de Chelly National Monument
I rested against the trunk of an old cottonwood welcoming the shade from the midday sun as I ate my ham and cheese sandwich. Nearby a few Navajos had set up tables with their jewelry and pots and I purchased a lovely small pot with little white sheep figures etched in the inside rim and a little Hogan on the outside. On the outside horsehair attached before the final glaze resulted in a lovely higgledy-piggledy pattern beneath the more traditional Navajo design.