Chapter 19-6: Welcome Relief
Oct 20, 2021
For a welcome break, my girlfriend, Carol flew in from Scotland to spend Easter with us and provide me with some much-needed girlfriend time! Four days before Carol arrived, we saw Dr. Reddy for Bob's two-month checkup and knew immediately from his expression that things were not going well. In fact, the tumor in his words was "eating the radiation for lunch" and was growing and needed to be removed immediately. He was prepared to schedule surgery to remove the eye that Friday. We were both in shock but for Bob the loss of his eye was so unexpected at this point that he was hesitant. Fortunately, Dr. Reddy was not able to schedule surgery until the following week, which gave Bob the much-needed time to come to grips with losing his left eye altogether. We were both grateful when Carol showed up a few days later providing support and humor through the following week and whisking me off to Santa Fe for a girl's overnight trip. She came with us to Eye Associates and waited as we met with the doctor who would be removing Bob's eye. Afterwards we browsed the bead shops of Albuquerque and wandered around Old Town enjoying the spring-like weather before heading home.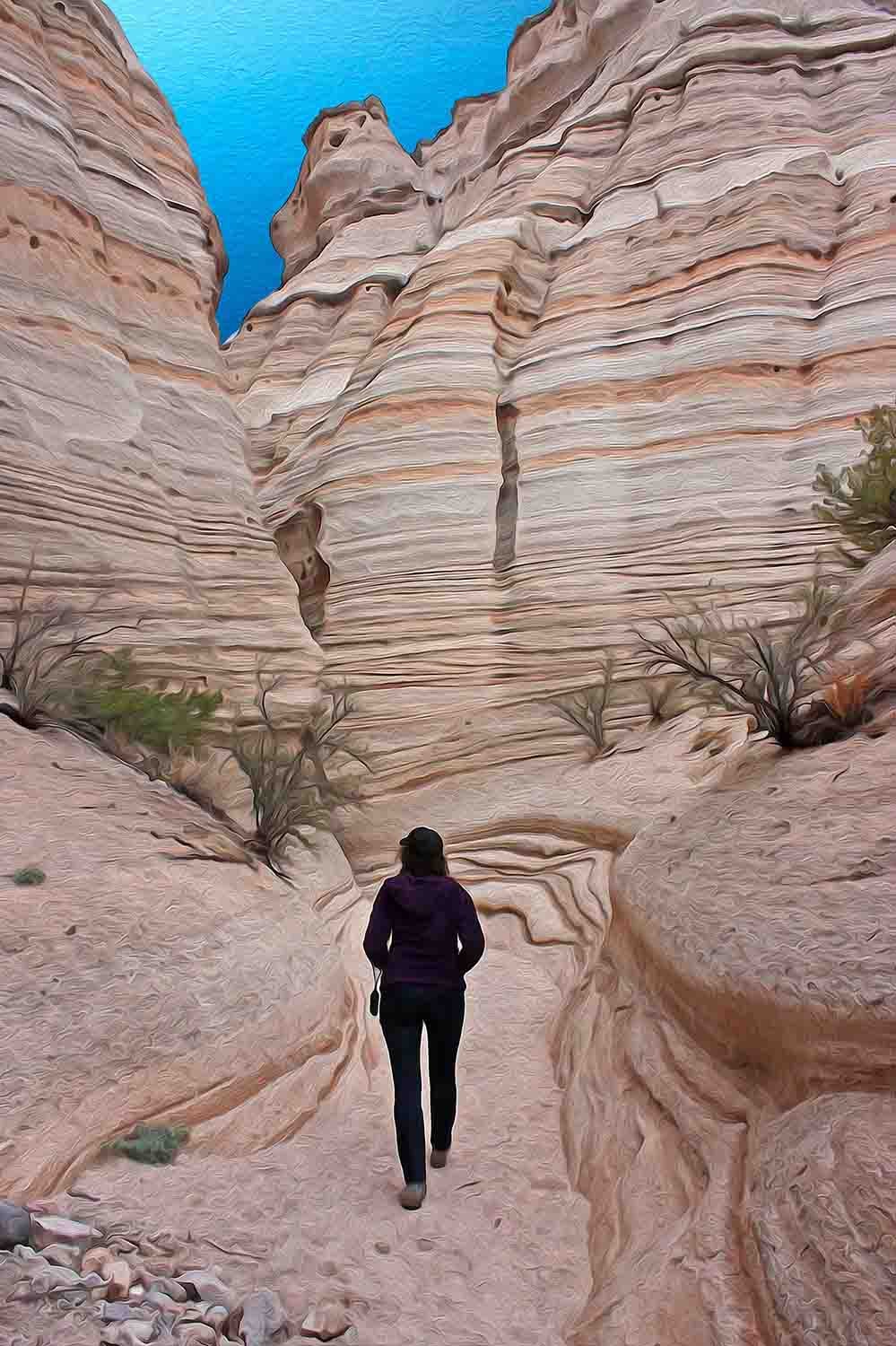 Carol at Kasha-Katuwe Tent Rocks National Monument
And even as all this was happening, Bob still lived with pain at the base of his neck. Studies have shown that chronic pain has been reported to significantly reduce the volume of grey matter in the brain globally, and more specifically at the prefrontal cortex and right thalamus.1 As the medical community studies pain and the complexity of the human brain, there is a growing understanding that if pain is no longer signaling that there is a disease or underlying injury, then the chronic pain itself becomes the problem and needs to be treated as the primary pathology. But even as scientists unravel the neuroplasticity of the brain, and as pain theories evolve, to encompass unpredictable and unlikely chronic pain states the question remained; would Bob ever have his pain brought back under control?
Apkarian A.V., Sosa Y., Sonty S et al., Chronic back pain is associated with decreased prefrontal and thalamic gray matter density, J Neuroscience 24: 10410–10415. , 2004