Chapter 19-4: The Hammer Drops
Oct 13, 2021
On November 7th we returned to see Dr. Reddy, followed by a trip to the Sleep Clinic and ending up at the Pain Management Clinic for his monthly visit. I sat in the waiting area and when the nurse came to get me, I knew the news was not good. I walked into the exam room where Bob was holding his head in his arms. Neither of us was prepared to be told he had an 8mm choroidal melanoma in his left eye. Bob was too distraught to talk, so I asked questions about the tumor and was shown an image of the tumor in his left retina. Knowing that this was a rare form of cancer wasn't particularly reassuring. We were told about the various treatments, but that the next immediate step was a CAT scan to see if the cancer had spread, which was quickly scheduled within two days. Three hours after we had arrive we headed over for his follow up at the sleep apnea clinic. A nice young woman came in and sat down to tell us that Bob did have central sleep apnea and would have to be fitted with a mask, connected to oxygen while he slept. I told her of Bob's latest diagnosis barely holding back my tears. Suddenly sleep apnea was no longer such a pressing concern. Two doctors' visits down, one more to go, Bob's monthly pain management appointment.
We told his pain doctor what we had just learnt, but her primary concern that afternoon was that his urine sample from the previous month did not show any oxycodone, his breakthrough pain. Once again Bob was made to feel like a criminal.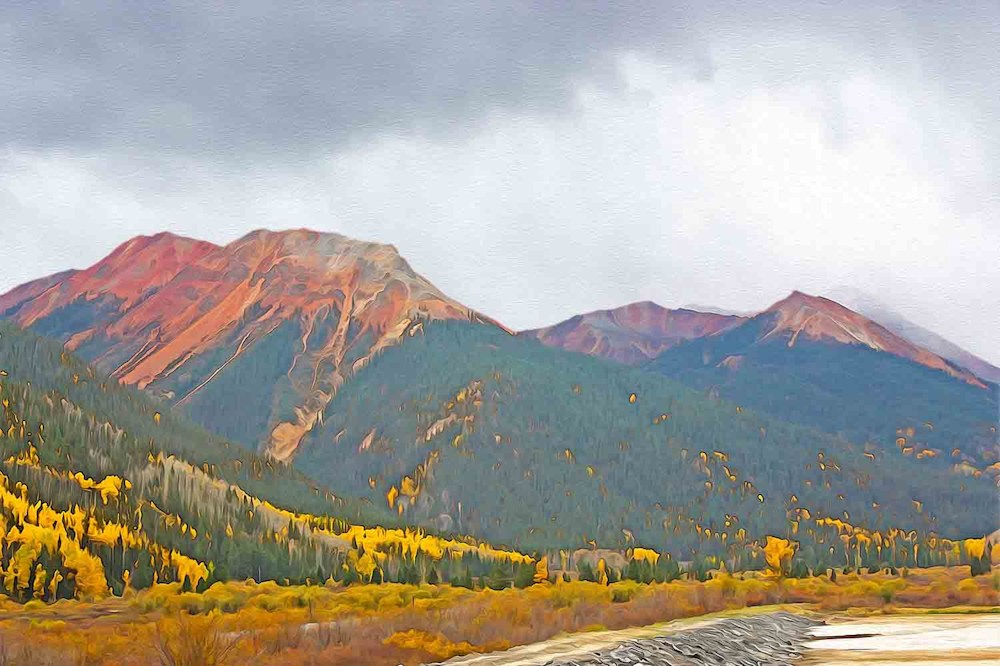 Storm over Red Mountain, San Juan Mountains, Colorado
In fact, the previous month, as always before trips to Albuquerque, which hurt like hell, he had taken a pill the previous afternoon at 4pm and then did not take any more so he could have an extra pill to take on the travel day in and around Albuquerque. When you are undertreated for pain, you are constantly aware of what causes pain flare ups and are sure to have extra pain medication to handle them. When the pain is moderate you end up cutting back on medication for the days that can be truly horrible.
It was a truly surreal day in Albuquerque. We drove home stunned and exhausted, wondering what lay ahead.