Chapter 18-6: Losing another Doctor
Sep 29, 2021
On Sunday, June 12, 2011, the Albuquerque Journal ran as its front-page story "RX: 4,200 pills a month. Prominent Doctor's Painkiller Prescribing Under Fire". The article stated that not only had Dr. Maron come under the scrutiny of the New Mexico Medical Board for injudicious prescribing of painkillers, but he was also under investigation by the DEA for "questionable practices". It was depressing reading for a Sunday morning. He had been prescribing for over 1100 patients in a thirteen-month period. One only had to do the math to realize that it is impossible to see this number of chronic pain patients on a regular monthly cycle if one is going to spend time both listening to and learning about the patients. Working a five-day week, seeing a patient every 15 minutes would mean in an eight-hour day seeing 32 patients, 160 patients a week, 460 patients a month. Now it is possible that some of these patients only required short term treatment and therefore could have been discharged, so it is possible if half his patients were discharged during a year and could be replaced by new patients so that the number of 1100 mentioned in the newspaper could be safely reached. Spending 15 minutes per patient is too short a time to get to know your patients especially in the world of prescribing prescription opiates.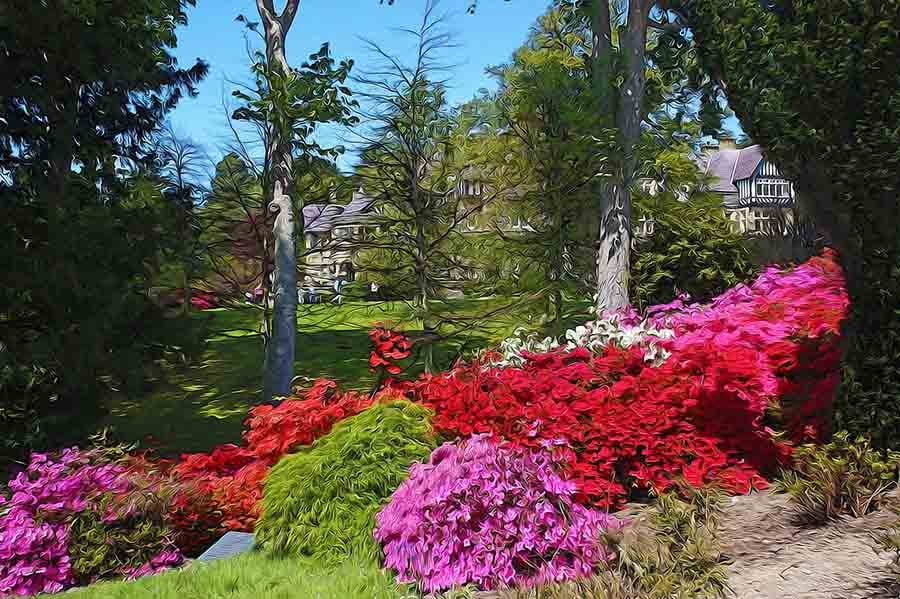 Azaleas, Bodnant Garden, Wales
Without knowing the full facts of Dr. Maron's treatment program and how many were short term patients playing the prescription numbers game was unproductive in evaluating whether he was seeing too many patients. However, the numbers made for a dramatic headline.
He always spent at least half an hour, often closer to an hour with Bob. He spent at least fifteen minutes with the patients ahead of us. What caught our eye was the news that Dr. Maron suffered from bi-polar disorder. In fact, he had been on the radar of the New Mexico Medical Board for the previous fifteen years. In 2002 he agreed with the board to stop performing surgery. Suddenly his outbursts of disgust towards ethnic groups and the mood swings we encountered month to month at our visits made a lot more sense; chirpy one visit, depressed the next.
The Albuquerque Journals headline made for a good read, but what upset me more was that the entire frontpage and second page of Section B focused on a wine festival in Bernalillo, just north of Albuquerque for the entire family. Come on down and get high on wine, was the basic premise of the lead article. But God forbid that we let pain patients get opiate medication to manage their pain. We do have a schizoid approach to drugs in America!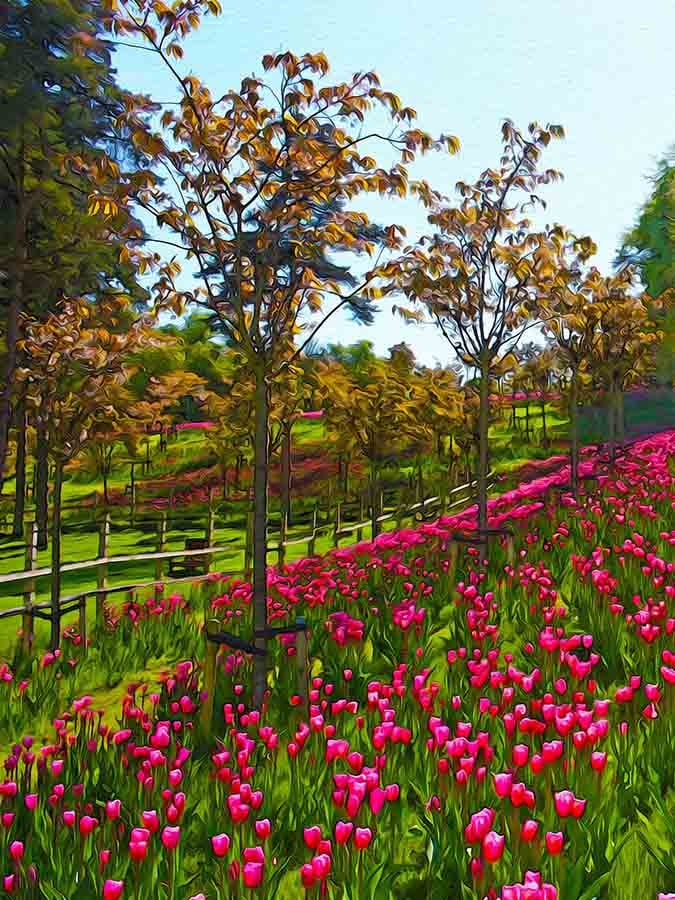 Tulips, Alnwick Castle, Northumberland
No matter what the final call on Dr. Barry Maron, Bob and I will forever be grateful for the way he treated Bob and for the quality of life he gave back to Bob. There would have been no road trips to Carlsbad Caverns, to Death Valley, to Britain and the wild Northumberland coast. We have nothing but gratitude towards Dr. Maron.