Chapter 18-5: Northumberland Part 3
Sep 26, 2021
The nearest point of Holy Island is about 1 mile from the mainland of England. We drove along the causeway, across the tidal flats which is generally open from about three hours after high tide until two hours before the next high tide, but the period of closure may be extended during stormy weather. We had checked the tide tables and read that about one vehicle each month is stranded on the causeway, requiring rescue by Her Majesty's Coastguard. As we approached the small village of Lindisfarne, we were directed into a large field to park and took a small bus to the foot of a rather small castle built during the time of Henry VIII to keep an eye on the pesky Scots. We slowly ascended the broad cobbled path to the castle and wandered around the rooms, emerging onto the battlements with excellent views back towards the village and the ruins of the priory and monastery. In the distance, to the south rising abruptly from the sandy beach lay Bamburgh Castle. In the middle distance, grey seals were basking upon a small spit of golden sand enjoying the warm midday sun.
Upon descending from the castle Bob felt up to the short walk back into town to explore the monastic ruins, eventually taking a small path down to the seashore where we picked our way among the small sea water pools crammed full of mussels before returning to the village for a well-earned lunch, fresh buttered scones slathered with raspberry jam and thick cream.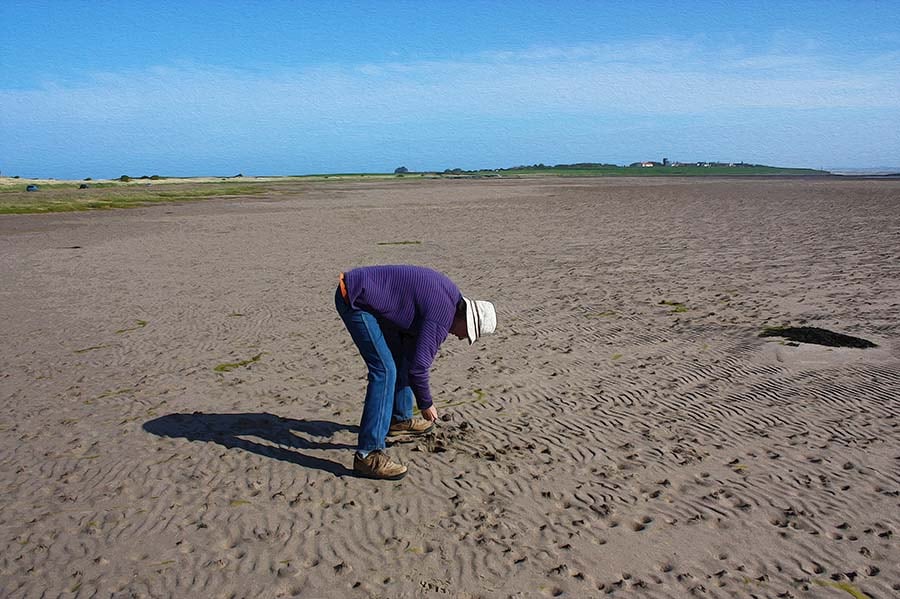 Looking for Lugworms
Driving slowly back across the causeway we pulled over to examine the curious knobby shapes that dotted the rippled mud flats as far as the eye could see. On closer examination the little mounds were spirals of sand next to small spherical depressions. Bob, ever curious, set about finding the culprit responsible for creating both the knobbles and depressions. Using a spoon he began to dig up around the knobbles finally retrieving a lugworm from its subterranean home. Satisfied, we left the mud flats now replete with manmade mounds and took narrow minor roads back to Seahouses passing through gently rolling fields, alternating lush verdant green meadows with plump sheep and their playful lambs, and bright yellow fields of mustard rapeseed, cultivated mainly for its oil-rich seed. Rapeseed is the third-largest source of vegetable oil in the world.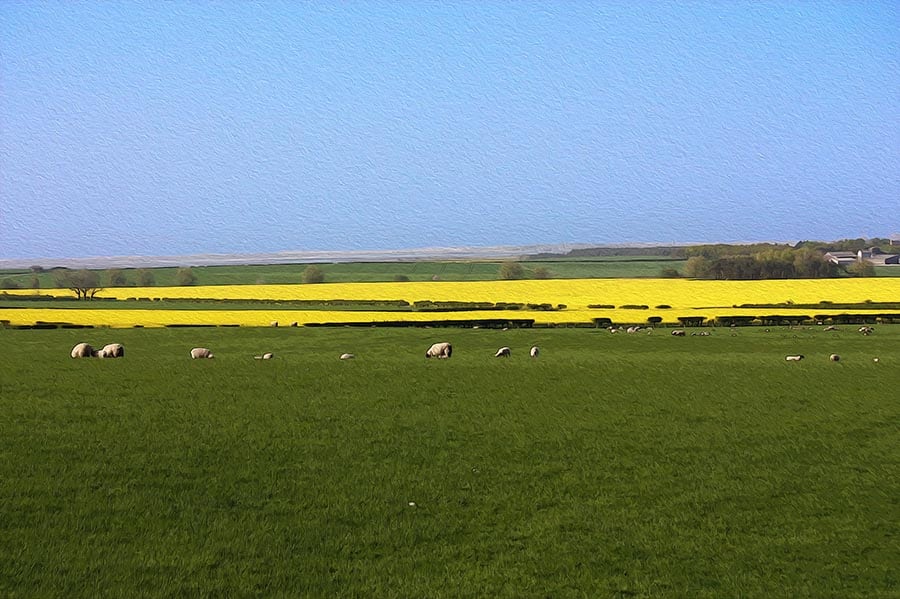 Fields of Mustard Rape