Chapter 18-3: Northumberland Part 1
Sep 22, 2021
The next day, Easter Sunday, we awoke to clear blue skies. The fog had lifted during the night, and in the distance, we could make out the Farne Islands, home to 15-28 islands depending on the state of the tide. Inner Farne, the main island, is only 16.5 acres. The islands are the most easterly outcrop of the Great Whin Sill, a formation that runs for some 70-80 miles across the north of England. It's an intrusive sheet of hard grey diabase, and the islands today provide suitable nesting habitats for twenty-one species of birds including, Puffins, Guillemots, Cormorants, Kittiwakes, and five species of gulls.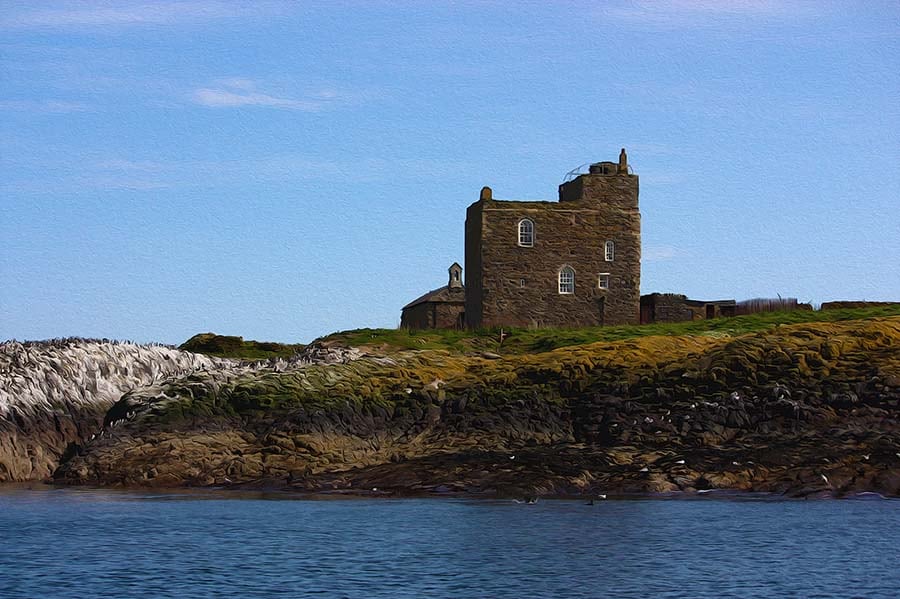 Prior Castell's Tower and Chapel, Inner Farne
Given the uncertainty of the weather we decided to take a tour boat across to the islands, to visit Inner Farne and see the birds up close. For nearly 900 years hermits and monks lived on Inner Farne, the most famous being St Cuthbert who was born around 673 AD. The sea was relatively calm as we chugged slowly up to Inner Farne to be greeted by a cacophony of Guillemots and gulls calling from the steep cliffsides splattered white with years of bird droppings. On arriving at Inner Farne a short walkway took us to the Fishhouse built by the monks for visitors. We then walked along a grassy path to the small chapel of St. Cuthbert keeping a lookout for puffins, a curious attractive little bird sometimes known as sea parrots because of their colorful orange wide beaks. They reminded me of penguins, sort of top heavy, and as they ran across the ground and took flight, I half expected them to flop back to earth in an ungainly splat.
On returning to our little tour boat we made a wide sweep past Longstone Lighthouse, a beautiful red and white striped tower standing sentinel on the northwest side of Longstone Island. Along the shore gray seals were packed tightly close to the water's edge. Later on, my camera revealed they were mottled in browns and grays and black. For a short distance, a couple of seals bobbed along in the water beside the boat as an occasional puffin dived for its fish dinner. It was an auspicious start to our week.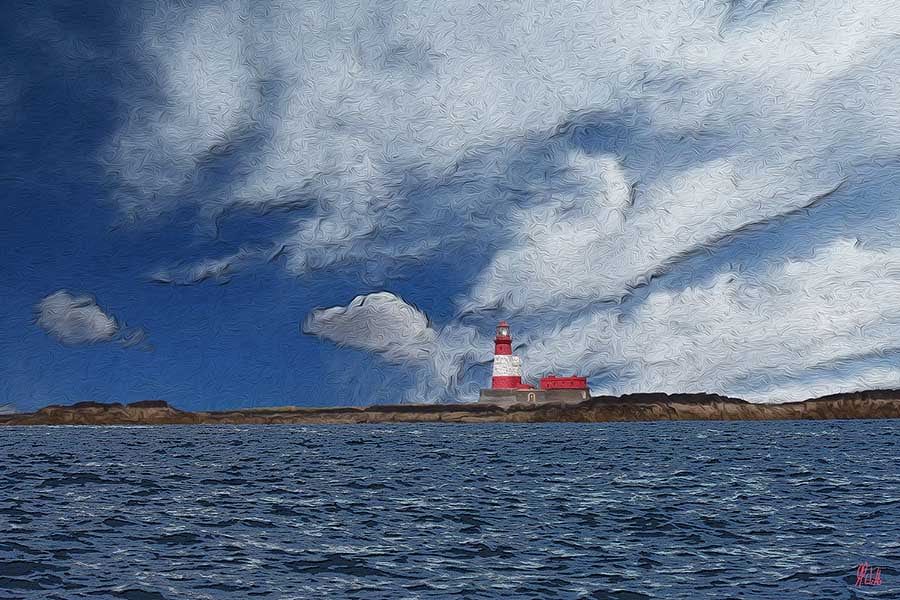 Longstone Lighthouse, Farne Islands