Chapter 18-2: The Calm before the Storm
Sep 15, 2021
The road to Coniston was narrower and it was a miracle we made it into the driveway of the holiday home without me scraping the side of the car on the rock walls. Bob on multiple occasions yelled at me that I was too close to the walls, but there was always a car oncoming in the other direction, and I really did not want to hit it! I was a nervous wreck and relieved when Andrew pulled up in his family minivan with room for Bob and me to fit in and relax. The rental car stayed put until we left six days later.
.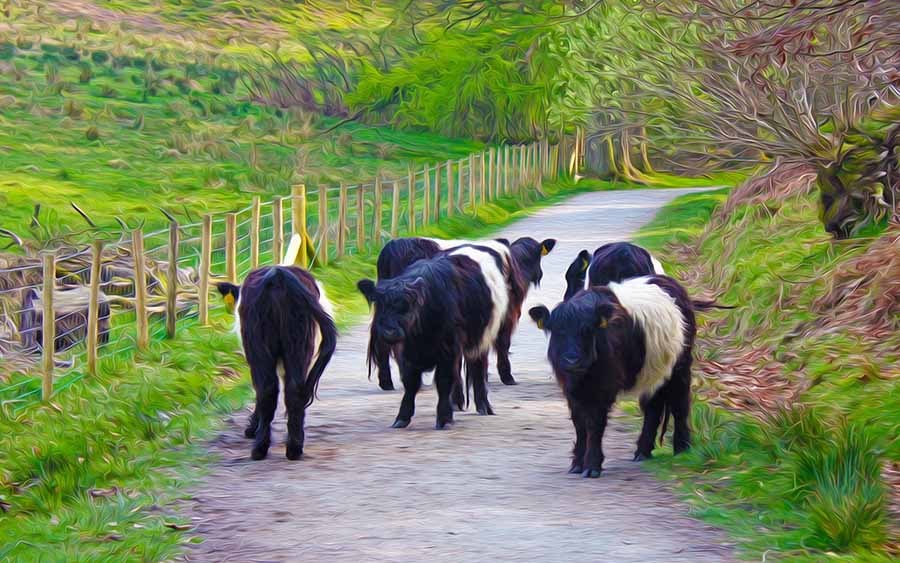 Belted Galloway Cows, Tarn Hows, Lake District National Park
It was mid-April, and the temperatures were in the mid 70's with sunny blue skies. We sat out on the patio enjoying leisurely breakfasts overlooking the calm waters of Coniston Lake and settled into a comfortable routine where the energetic members of the household would go for a morning walk leaving Bob sipping his first cup of coffee and Rebecca studying for her A level exams in June. Then we would return for lunch and find a gentler stroll for Bob and my lovely niece and nephew, neither of whom had inherited the Wilks love of hiking. When they were little, afternoon outings had to be carefully crafted around the lure of afternoon tea and ice cream. Now teenagers, they still preferred their walks ending with ice cream and jam filled scones and had a new ally in Uncle Bob, who was happy to slowly walk the two miles around Tarn Hows with splendid views of the Langdale Pikes and the Helvellyn Range in the hazy summer-like sunshine.
Halfway round the little lake or tarn as they are called in the Lake District the road was blocked by a herd of rare Belted Galloway cattle, a heritage breed of cattle originating from Galloway on the west side of southern Scotland admirably adapted to poor upland pastures and windswept moorlands. Aptly, also known as "Oreo Cows" for their splendid central white band. We moved slowly through the shaggy beasts admiring their colorful coats. And for once, Bob did not try anything foolish with them.