Chapter 17-3: Weather Interlude - Monsoons
Sep 08, 2021
Fast flowing water two feet deep can carry away a full-size truck. In England, the rivers I was familiar with like the Cherwell and Thames flow sluggishly, lazily through the lush green countryside, past idyllic villages and on to the coast. It took time for me to appreciate and believe in the deadly nature of these sudden flash floods. I thought, like many people, that a car would be able to withstand a small flow, after all two feet does not seem very deep until you're actually in a car crossing a stream in flood and feel the front right wheel slip and the car lurch to the side, and suddenly in no longer seems an invincible machine.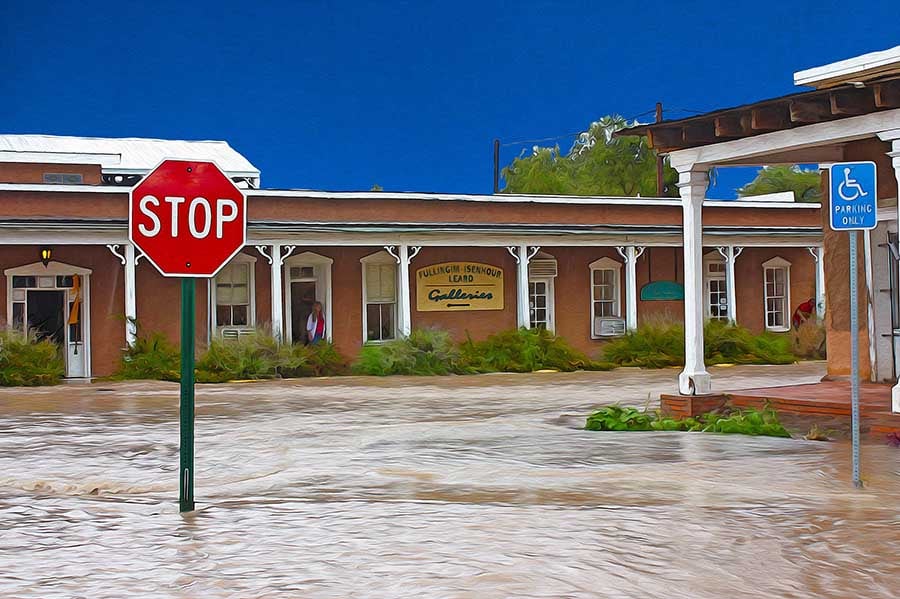 Downtown Socorro
One evening after three inches of rain fell in just under four hours, Bob and I drove out to the flood control arroyo at the south end of town. We stood on the bridge in the dark with our flashlights. The rain had abated but water was flowing from bank to bank. I could hear boulders rolling on the riverbed floor, grating, and crashing against each other. This is what kills you when you get swept away by a flash flood; the hidden pebbles, rocks, and boulders grinding their way towards the open sea.
One thing is certain, the weather is never dull in Socorro. But compared to the rest of the United State we are lucky. We do not experience hurricanes and rarely do tornadoes touch down on the eastern plains, which lie west of the notorious tornado alley that stretches north from the Texas coast up through Oklahoma, Kansas, Nebraska. Nor do we get the heavy rains that cause damaging mudslides and flooding in the Pacific Northwest.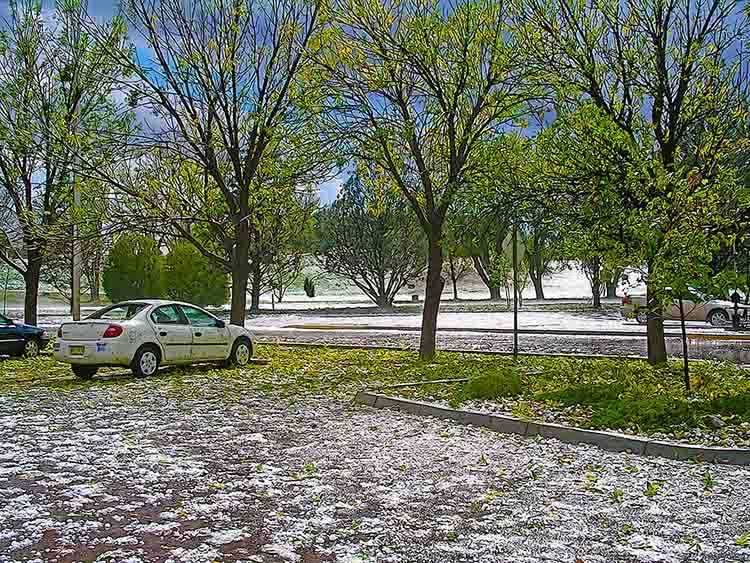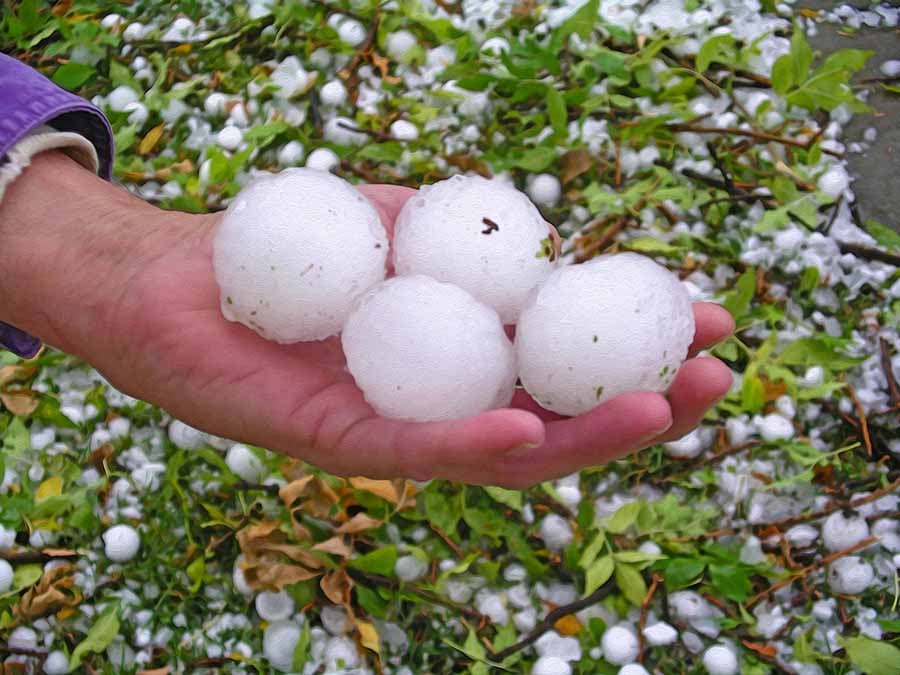 Golf ball size Hail
But occasionally we get a summer thunderstorm with serious damaging hail. In October 2004, a nasty little cell moved slowly over the northern end of town firing off golf ball sized hail stones and the occasional softball size stone. I was at work watching the cars in the parking lot being destroyed; windshields smashed, side mirrors snapped off and the foliage from all the trees on campus stripped leaving bare branches and trunks. Every roof on campus had damage. Neighboring homes had extensive damage. Solid wrought iron barbecues were destroyed, sunroofs smashed, and countless birds, rabbits and any small creature unfortunate to have been caught out in the storm were killed hiding out under the canopy of fallen leaves and bushes. The local roofing companies did booming business for the next two years.