Chapter 16-1: Southern Road Trips - Valley of Fires
Aug 22, 2021
In the summer, Carol, one of my oldest friends, came over to New Mexico with her husband and two teenage children. It was mid-July when they touched down in Albuquerque, and a heat wave had settled over New Mexico, breaking records in Albuquerque. The coolest place to be was either in the movie theater or wandering the aisles of a Wal-Mart superstore. Fortunately, they enjoyed both these venues.
To escape the blistering 100o F (37.7o C) heat, we took a road trip to Carlsbad Caverns National Park, New Mexico's only National Park which was established in 1930. We set off in two vehicles with Carol's youngest son, Angus happily riding with us. We headed east along Highway 380 across the northern extension of White Sands Missile Range.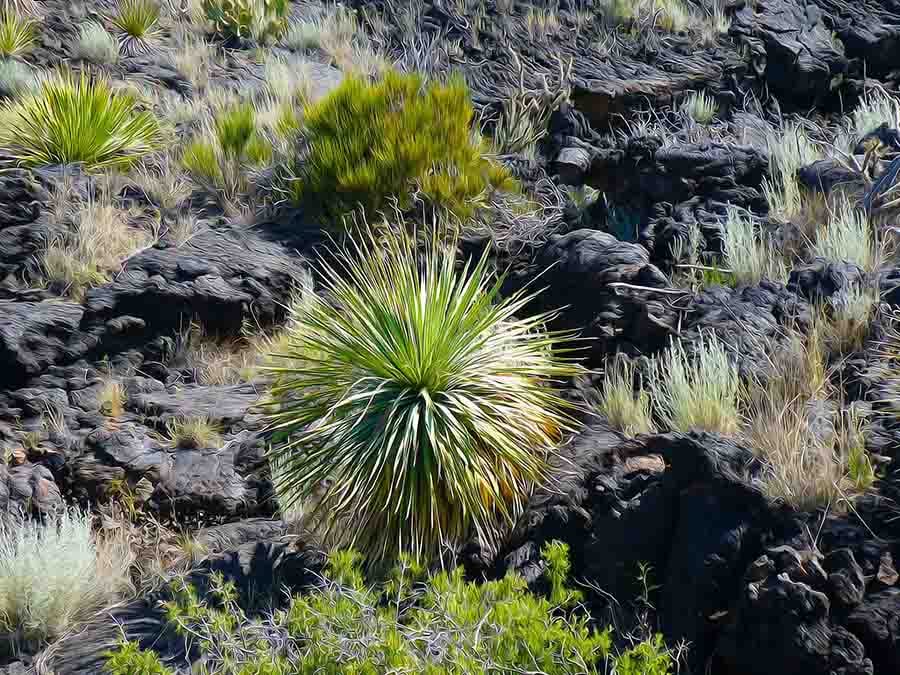 Valley of Fires
Along the way we stopped off to stretch our legs at the Valley of Fires State Park. 5000 years ago lava spewed out from two small vents and flowed for 44 miles. Unlike the landscape at Craters of the Moon this is not a desolate blackened landscape. Over the last 5,000 years, soil from the slow weathering of lava, windblown dust, precipitation and the chemical action of plants and roots once established has allowed desert plants, like four-wing saltbush, Apache plume, spiky yuccas, juniper trees and little-leaf sumac, to take hold. Scarlet gilia, pink globe mallows, purple verbena and white daisies provide splashes of color among the blackened terrain in the spring and after late summer rains. It was a hazy day, so we did not bake too much as we walked the short mile loop around the park stopping to read the signs that described the various geologic features and wildlife inhabiting the rocky terrain.
We drove on past Roswell, home of space aliens and across desolate farmland into Artesia past the oil refinery and the sour smell that drifts over the town from the refinery as coalescing clouds darkened. Suddenly the heavens opened, and the road disappeared under the torrential flood of rain. We slowed to a crawl, windshield wipers working overtime and after a short distance the rain eased up but drizzled the next thirty miles to Carlsbad. At least we could see the road. It was late in the day when we finally pulled into Sonic for dinner and a break from the rain.