Chapter 16-2: Southern Road Trips - Carlsbad Caverns
Aug 25, 2021
After days of sweltering heat Carol and her family were right at home in this Scottish weather and it was a joy to stop at all the vistas, descriptive markers and nature trails along the seven-mile drive to the visitor Center sitting on top of an ancient limestone reef. The hillside appeared lush with spiky yuccas, prickly pears, hedgehog cacti still thick with raindrops from the previous night's downpour.
250 million years ago, southeastern New Mexico was covered by an inland sea rimmed by coral reefs, in what is now known as the Delaware Basin. Today the remnants of this tropical paradise can be seen in the rocks that form the Guadalupe Mountains and hidden beneath them lie over 300 caves, including the spectacular Carlsbad Caverns. The caves were formed only 4–6 million years ago, long after the limestones had been deposited and the oceans had receded.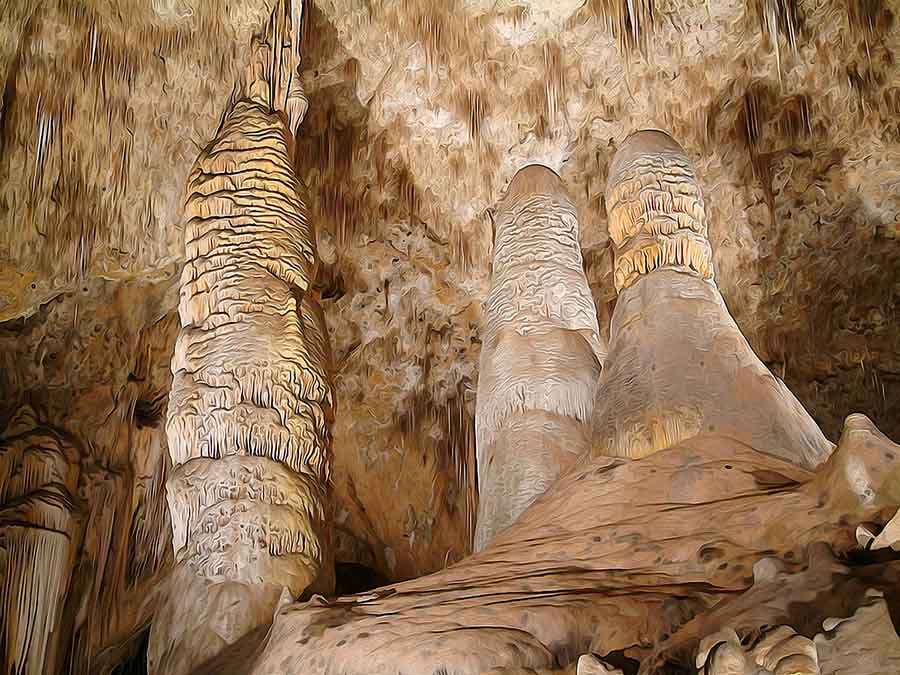 We decided to walk down into the caverns through the natural entrance, an 830 descent into the main cave complex. During the summer months, about 300,000 Mexican free-tail bats crowd together on the ceiling of Bat Cave. At night it's quite a spectacle to watch the bats leave the caves in gigantic swarms, silhouetted against the night sky like a dark swift-moving cloud heading out to feed for the night.
It was the emergence of the bats at night that gave away the location of the cave to early settlers in the 1800's, although Native Indians had ventured into the cave seeking shelter thousands of years ago. Some of the settlers mined the huge deposits of bat guano to sell as natural fertilizer, but it was a cowboy, Jim White of White City fame, who explored the caverns and posted the first pictures taken from inside the caverns in 1915. When word reached Washington, D. C. in 1923, the Department of the Interior sent an inspector to check out the claims of Jim White. By the end of the year Carlsbad Cavern was proclaimed a National Monument and Jim White became its first chief ranger. Even though it was starting to warm up outside, in the depths of the cave it was a cool 54oF (12oC).