Chapter 13-1: High Plains Drifting
Jul 04, 2021
We headed north on I-25 stopping at Bernalillo for breakfast. At Santa Fe we continued east on the interstate leaving the heavy traffic between Albuquerque and Santa Fe behind us. A few miles on we crossed the southern end of the Sangre de Cristo Mountains at Glorieta Pass, close to the site of one of the few Civil War battles fought in New Mexico. In 1862 General Sibley leading a small Confederate army of 2,500 men defeated the Union army led by General Canby at the battle of Val Verde, just south of Socorro. General Sibley then continued northwards with dreams of capturing Santa Fe but was routed at Glorieta Pass when Union troops burnt his much-needed supplies and his army fled south back to Texas. Less than 100 soldiers died. I read once that the battle was described as the 'Gettysburg of the West'. Given that 51,000 soldiers died at Gettysburg and having stood on the battlefields of the Somme and Verdun I thought this a slight exaggeration.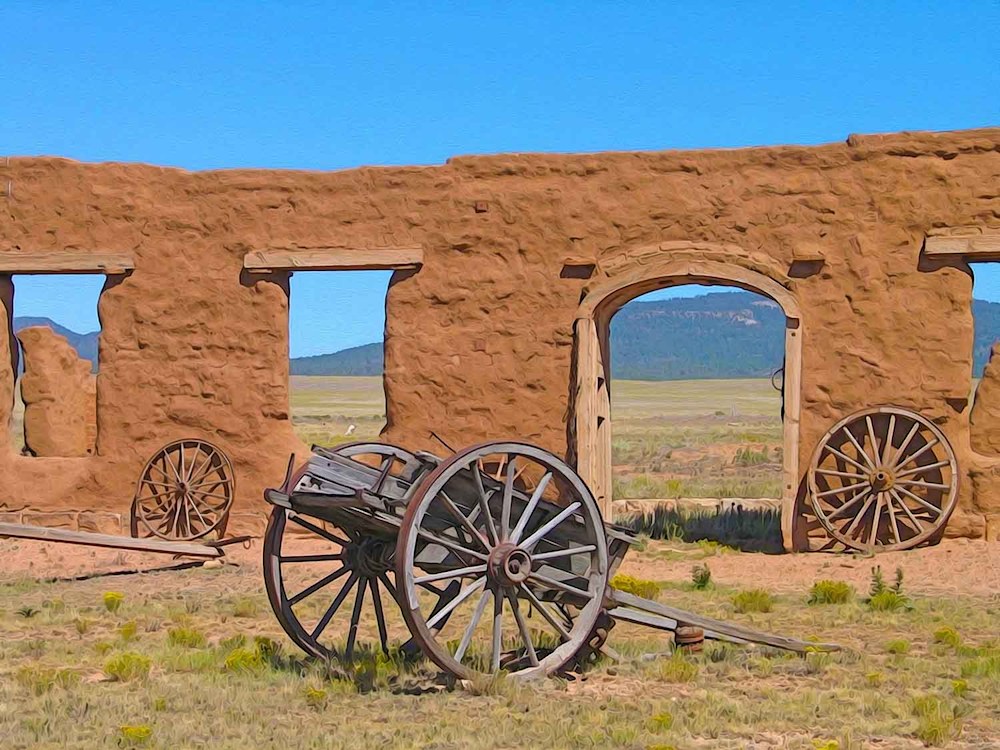 Fort Union National Monument, New Mexico
Descending Glorieta Pass we emerged onto the High Plains, and I was reminded of the Canadian prairies. There was a desolate beauty to this wind-swept barren landscape. Just beyond Watrous, we turned off onto a lonely road and drove eight miles to Fort Union. Built in 1851 to consolidate the Santa Fe Trail and provide defense against nomadic Indian tribes that still their native lands, it was a windy, bleak location, with the mountains barely visible to the west. We walked among the stone foundations, adobe walls and chimney ruins with signs and photographs displaying what the fort looked like in its heyday. I felt sorry for the army wives who found themselves stationed in this lonely outpost. Bob was enjoying himself. So far so good.
By late afternoon we pulled into the small colorful town of Raton established by the Atchison, Topeka and Santa Fe (AT&SF) Railroad with an added benefit of coal in the nearby mesas and canyons. Bob was flagging from both the car ride and touring the ruins of Fort Union, so retreated to our motel room to lie down with ice packs. I went for a walk downtown where Victorian brick and stone houses with lovely facades in brownish reds, and golden browns still stood. To the west rose the foothills of the Sangre de Cristo Mountains, mesas of colorful sandstones, mudstones and coal beds from the Cretaceous era. When I returned to the motel room Bob had perked up. So far so good.