Chapter 13-2: High Plains Drifting - Reality Check
Jul 07, 2021
We retraced our route back into Raton and then turned eastwards climbing up onto Johnson Mesa, a lava capped tableland standing 2,000 feet above the surrounding land. In the late 1800's a group of dissatisfied miners led by Marion Bell settled on the high mesa, lured by reports of rich soil and spring water. They were not prepared for the harsh winters; -30o to -40o F with snows, blizzards and poor roads. The only evidence of the town of Bell is St. John's Methodist Episcopal Church, a small stone church standing amid flat grasslands, a lonely windswept place. We pulled over to stretch our legs and crossed the road to the small cemetery where the hardship of life on the mesa was etched in the grave markers. One family buried six of their children before any reached the age of four. In the distance rose various conical peaks, all volcanic edifices of the Clayton-Raton volcanic field. It was not yet noon and Bob had his hands wrapped around his neck; a telltale sign that he was not doing well.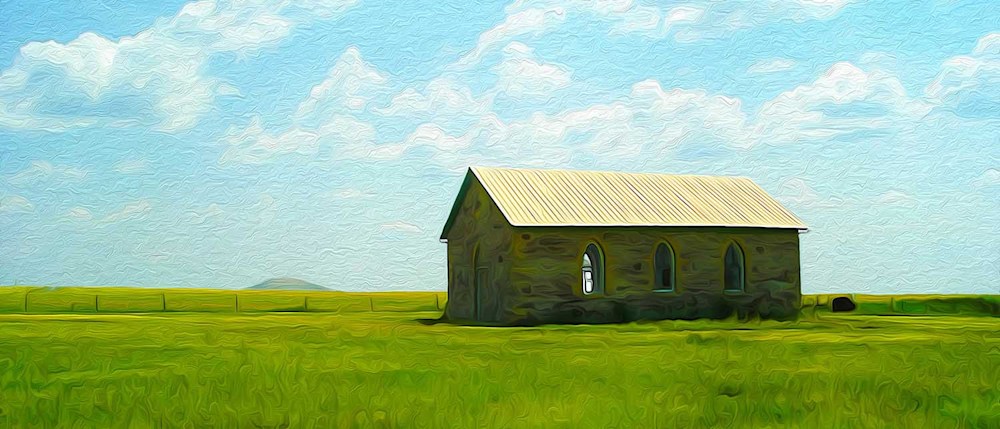 St. John's Church, Johnson Mesa
We continued to the tiny town of Folsom, a rather small, dilapidated assortment of buildings, where in 1908 bones of bison remains were spotted sticking out of an arroyo. In the 1920's archeologists radiocarbon dated the bones and skeleton remains and discovered they were at least 10,000 years old. This clearly established the presence of man in America thousands of years earlier than anyone had thought
From Folsom we turned north and continued east following the Dry Cimarron River. The broad canyon is rimmed throughout its length by brown beds of the Dakota Sandstone underlain by white cliffs of the Purgatoire Formation. The slopes below are the greenish-reddish, or purplish silts and sands of the Morrison Formation. Further down the lonely road thin whitish-yellow cliffs of Entrada Sandstone appear, the same Entrada sandstone cliffs that wowed us on Lake Powell. The Jurassic Entrada dune field covered hundreds of miles in what is now the southwest U.S. By now my geologic interpreter had given up the ghost of reading the geologic road log. We saw no cars and only the occasional farmhouse in the distance down a dirt track. The pavement ended, and we continued on a well graded gravel road and zipping westwards we passed a UPS truck miles from any major town.
I looked across at Bob who by now in the late afternoon had his eyes closed, and he looked grey and drawn, and I wondered if this would be our last road trip together. At the age of 45, I felt my world closing in and the dreams of trips to the Northwest and Alaska receding as the afternoon sun slowly sank behind us.