Chapter 9-5: Black Bear
May 16, 2021
By the next morning his whole upper body ached, and he still had a massive headache. I went for walk to Woods Lake and Bob stayed at the campsite feeling miserable. When I returned, he still felt awful.
This was the first time that pain truly impacted a vacation. The pattern of days lost to pain had now become a constant reality in both our lives, and we broke camp the next day and headed home over Ophir Pass. Bob was driving and the rough road far from dampening his spirits and worsening his neck pain seemed to improve them. He was steady, holding on to the steering wheel. I was the one being bumped around on the rough road, and still enjoying the ride. As we drove across a steep scree slope Bob told me of the time, he had come across a family in their 2-wheel drive sedan car with looks of terror on their faces.

View north below Ophir Pass
At Ophir Pass, Bob's humor and spirit reappeared and feeling better than he had in the past three days we decided to descend back into Telluride over Black Bear Pass, definitely not a road for the faint hearted and certainly not for anyone suffering from vertigo. In the world of four-wheeling Black Bear Pass is one of the classic routes to drive. The road to the pass is two-way into Black Bear Basin but shortly before the switchback descent into Telluride it becomes one-way as the switchbacks are so tight.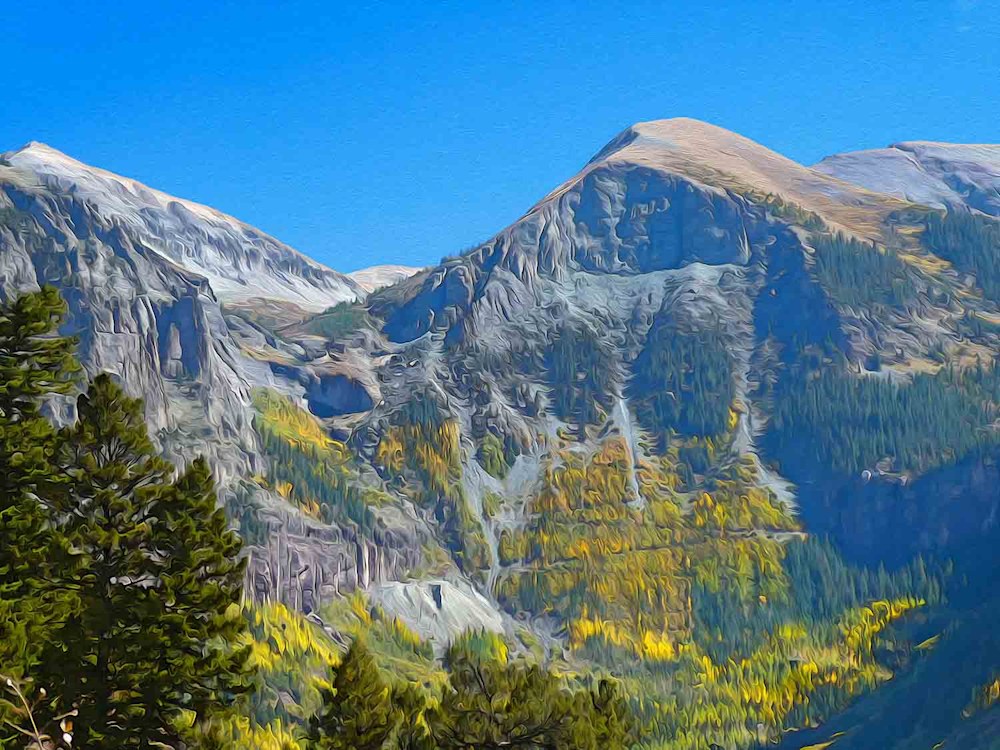 Black Bear Jeep Trail, Telluride, Colorado
The moment I first saw the trail from Telluride I had wanted to drive it, and at Red Mountain Pass Bob and I switched drivers and I took over. As we approached the chasm I watched as the jeeps ahead of me were bouncing and slipping on a narrow rough section with a 10-15 foot drop off to Ingram Creek on the south side and rocky hillside on the north side. I looked at this with some trepidation and I was doing fine until the 4-Runner started to slip and slide. It was an unnerving feeling especially as ahead of me was an enormous gaping chasm and a two-thousand-foot drop to the valley floor. There was a sense that if I rolled into the creek on my left, I would end up tumbling forward and down over the 2000-foot precipitous drop. It did not help matters that I was still a novice when it came to driving a stick-shift and had limited experience in the 4-Runner bouncing over such a rocky terrain. I stalled in the middle of the roughest spot and told Bob he could take over. He was only too happy to oblige! As he eased off the clutch and we moved forward I relaxed back in the passenger seat. As we entered the first narrow switchback with spectacular views of the surrounding mountainsides, he happily announced that it was only short drop into Telluride. It would be another 19 years before I would conquer Black Bear driving my automatic Nissan Xterra Pro-4X.