Chapter 18-4: Northumberland Part 2
Sep 25, 2021
On Easter Monday the clouds returned but the rain kept away, so we decided to visit Bamburgh Castle. The earliest fort was destroyed by Vikings in 993, and the Normans later built a new castle on the site, which forms the core of the present one. The village dates to 547AD. The castle has seen its fair share of history over the years including the surrender of the Scottish crown to Edward III by Edward Balliol in 1356. I've always enjoyed exploring castles; there is something fun about imagining the history that has played out in these magnificent structures and just enjoying the views from the battlements of the surrounding plains. Bamburgh was no different. There was a simple elegance to the castle; the walls built out of beautiful blocks of neatly carved sandstone in colorful hues of purples, reds and pale pinks dating back to the Devonian era and aptly named the Old Red Sandstone. The simplicity with which the blocks fitted together reminded me of the walls of the pueblo ruins in Chaco Canyon.
There were so many castles to explore in Northumberland, but British gardens were always a favorite with Bob. He preferred walks through woodland parks, fountain landscapes or rose gardens over old tapestries, medieval armor and stuffy portraits of long dead lords and ladies. So, our next excursion was to the beautiful grounds of Howick Hall, home of Earl Grey, and known for their spring bulbs with snowdrops in February and March marking the Snowdrop Festival. By the end of April, when we showed up, the daffodils were fading but the Magnolias, Rhododendrons, Camelias and Tulips were in full bloom.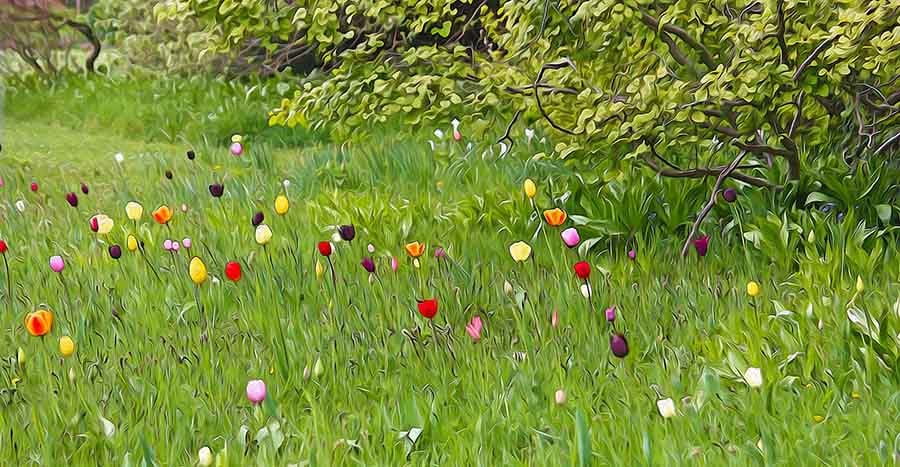 Tulips, Howick Hall, Northumberland
The highlight was coming upon a meadow with tulips of every color, red, pink, yellow, orange and deep purple sparkling among the green grasses, as if they were wildflowers. It was the loveliest display of tulips I had ever seen. And then it was on to the large tea rooms to be served, what else, but Earl Grey tea. The tea was originally blended by a Chinese mandarin for the 2nd Earl Grey, Prime Minister of England from 1830 to 1834. Bergamot was used to offset the taste of lime from the local Howick spring water. Lady Grey used it to entertain political guests in London and was asked if it could be sold to others, which is how Twinings came to market it and it is now sold worldwide. Unfortunately, the Grey's were not business-like and failed to register the trademark and as a result the family has never received a penny in royalties. The scones were delicious, and we left with full bellies and returned to Seahouses, where Bob could take a nap and rest his neck. I walked down to the beach for a delightful afternoon stroll among the tide pools.